Child Safety Magnetic Cabinet Locks
Child Safety Lock is the magnetic cabinet lock that is simple, stylish and most of all secure. Child Safety Lock is hidden away from sight: it can be installed almost anywhere! – in the bathroom, kitchen, under the sink, on drawers, laundry room cabinet doors, etc

Simple install with installation template
Ease to use
Extra Stronger magnets work on 0.75-2 inches cabinet door
Very strong 0.8-1mm adhesives
Optional durable fixed with stainless steel screws
Child Safety Lock's innovative design makes it the best childproofing cabinet lock available anywhere!

Magnetic Cabinet Locks Child Safety Baby Proofing Drawer Latches 4 steps Installation with Cradle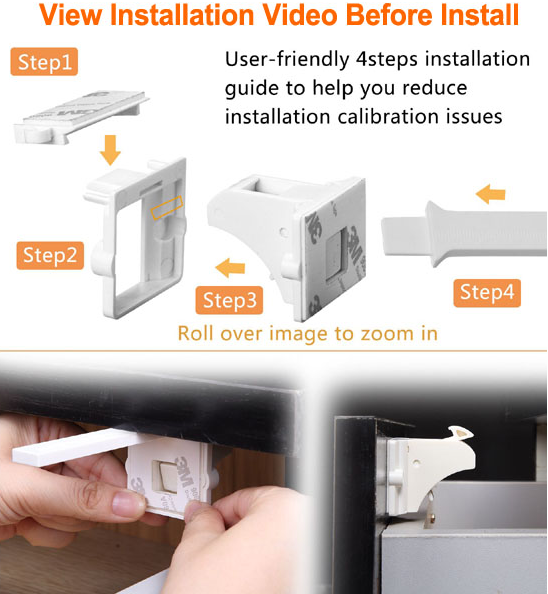 magnetic cabinet locks protect your baby from being damaged by cabinets and drawers, taking care of the safety of every lovely baby precisely.

Step 1: Insert latches into the cradle (installation Template), Peel off adhesive, and stick on the cupboard. Align the cradle with the side frame of the cabinets.

Step 2: Insert locks into the cradle (installation helper), then switch off and peel off adhesive.

Step 3: Closed the cupboard door and let locks stick on the door automatically. then pressure locks and make adhesive more effective. Switch on locks and use a magnetic key to test locks are workable.

Step 4: Done, you can close the door and locks are start work now. You can not open the door without a key.

PS: Keep 24 hours before your first use for max adhesive. It can work on 5kgs pull at 50 seconds. (have tested)

Avoid installing locks near iron/metal knob/handle or screws!
(Magnetic cabinet locks are not working well near metal)

Switch Off Feature
Extra Stronger Magnetic Locks Work on 0.75-2" Thick Cabinets Door
Upgraded magnetic locks can work on 0.75"-2" thick cabinets door and drawers.

Most other brand child locks only work on 0.75"-1.00" thick cabinets door.

Our solution: use extra stronger magnetic locks and work for thick max 2" board. available for wood, glass cabinets or drawers. dresses drawers etc.. any metal cabinets are not working for magnetic locks. you can purchase our spring child locks.

2 Ways Install Locks:

Use Stronger 3M, no tools, no-drill, no holes. (Easy with installation helper now - Cradle)
Use stainless steel screws fixed for durable protection
Extra Function: Disable lock if you do not need lock work at some time.

Extra stronger Tape (0.8-1.0mm thick). Most other brands use 0.3-0.5mm thick tape.
Upgraded magnetic locks and keys. Work on the max 2" cupboard that has tested.
---